About Us
We deliver a well-rounded event management service, and our clients can pick and choose which services they would like us to deliver from a full event management service to tailored bespoke packages to suit specific needs, we are more than happy to work with clients on themes and ideas. Our aim is to be completely adaptable and flexible, providing as little or as much support as is needed. We thrive on meeting your needs. Each event will have its own account manager as the main point of contact throughout the process, from conception of the event through to its successful completion. We take Data Protection very seriously and all our staff are compliant and adhere to current Data Protection legislation, all our data being held on a secure server.
The Team
Nicola Hardaker - Managing Director


After many years of experience in conference and event management, Nicola set up Hg3 Conferences Ltd in 2009 and has continued to successfully provide conference and event management solutions to a wide range of clients.
In her earlier working years, Nicola was employed by a charitable organisation as part of their in-house conference team delivering an annual conference and many other events throughout the year.
Prior to setting up Hg3 Conferences, Nicola worked for a well established conference agency managing an events team and ensuring the successful delivery of many events a year for a number of clients, performing on budget and to tight deadlines.
Joanne McBratney - Events Manager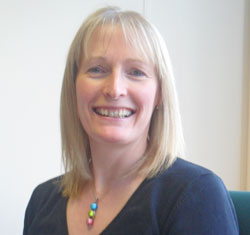 Joanne has a wealth of experience working within the events industry. She started her career at an award winning Country House Hotel with responsibility for a variety of events from conception to delivery.
Immediately prior to joining Hg3 Conferences, Joanne worked for a professional membership Association within the medical sector. As a member of the in-house events team the role included the delivery of educational events for the membership and organisation of the Association's annual flagship conference and exhibition.
Joanne works closely with each client account she has responsibility for and will ensure the successful delivery of all aspects relating to the event. She has a solid understanding of registration database management, abstract management, financial control and event management. Joanne is phased by little and will work hard at producing a first class event for each client she works with.

Marian Churchill - Accounts and Membership Manager

Working in various finance related roles during her career, Marian has gained many years experience of accounts and business planning.
Before joining Hg3 Conferences Marian worked a large Charity where she was responsible for the day to day finances of the organisation along with the management accounts and reporting to statutory bodies. She has several years experience working with membership associations, managing their data and ensuring timely collection and recording of membership fees.
Marian is calm under pressure and her attention to detail is second to none.
Harriet Noble - Conference Events Co-ordinator

A graduate with a BA in Visual Communications and after 4 years working within the veterinary industry, Harriet chose to return to her true vocation of event and membership management. A pro-active individual who is keen to expand her knowledge and experience within the events industry, she is very organised an excellent relationship builder and likes to keep on top of all the elements that event co-ordinating entails. With her own wedding fast approaching Harriet knows that the day will be planned to perfection. In her spare time Harriet is a keen photographer, gym enthusiast and alongside having her own two cats often takes on foster cats.
Luan Barlow - Conference Events Co-ordinator
Robert Glyn Jones - Conference Events Co-ordinator
Jamie Wright - IT Support
Neil Hardaker –  Director
Neil has always been a great help to Nicola since Hg3 Conferences was initially conceived as a business proposition. Having worked in the transport & distribution industry for over 25 years, Neil has now joined the Hg3 team in a support role.
A university graduate with a keen eye for detail, Neil ably assists in a variety of roles within the business ranging from office facilities manager through to on site event logistics to mention, but a few.

Gilbert – Team Motivator

The latest recruit to the Hg3 team, Gilbert works part-time as required and when in the office prefers to hot desk and can usually be found under an occupied desk rather than at a vacant one.
Enjoying a good rapport with all of his Hg3 colleagues, despite a somewhat limited vocabulary it is amazing to see how Gilbert spurs the team on. His preferred office times are lunchtime followed by an afternoon nap.